We lose hair every day – some experts suggest between 50 to 100 strands – and most of the time it isn't obvious, but for some people, hair loss is a more serious problem. If you've noticed thinning patches or clumps of hair in the drain after showering, then it might be time to consider what's causing it, and how to stop hair loss.
In this blog, we look at the five most common causes of hair loss and the treatments available to promote healthy re-growth.
1. Male/female pattern baldness
When you think of hair loss, hereditary baldness in men is probably the first thing that comes to mind. Also known by its clinical name – androgenetic alopecia – male pattern baldness is estimated to affect half of all men by the age of 50¹.
It's the most common type of hair loss, and it's not just an issue faced by older men – females and younger males can also suffer.  In men, it usually starts with a receding hairline and is followed by thinning of the hair around the crown and temples. Women generally experience an overall thinning, but rarely lose all of their hair.
2. Stress or trauma (telogen effluvium)
In some instances, hair loss can be triggered by stress or trauma, such as childbirth or surgery. This is known as telogen effluvium, and it is usually a temporary condition. A sudden change in your body can affect the hair follicles, which causes "shedding". This type of hair loss can also be triggered by hormonal changes and sudden weight loss.
It can affect large areas of the scalp and causes excessive hair loss, but with the right diet and nutrients, you can expect the hair to regrow naturally within a year.
3.  Alopecia areata
Alopecia areata is a type of hair loss that is caused by an autoimmune condition that affects the hair follicles. Characterised by coin-sized patches of hair loss, it's most prevalent in teenagers and young adults. Although there is no cure, in some cases the hair does grow back – this is more likely in the early stages of mild alopecia.
It is mainly contained to the scalp, but there are some variations of the condition that can affect the hair on other parts of the body, including a man's beard (alopecia barbae).
4. Damage to the root
Hairstyles that put a strain on your hair can cause damage to the root, known as traction alopecia. Since new hair follicles cannot grow in their place, this type of hair loss is permanent, but there are things you can do to prevent it. Wearing your hair in a loose style that doesn't pull on the roots is just one way of managing the problem.
5. Underlying illness
Most hair loss isn't serious, but in some cases, it can be a symptom of an underlying illness or medical condition. This includes:
thyroid-related problems
scalp infections such as ringworm
lichen planus and some types of lupus
other diseases that cause scarring
Certain medications can also cause hair loss as a side effect, including blood thinners such as warfarin, and even birth control pills. If you suspect that your hair loss is due to your medication, speak to your GP as they may be able to change your dose.
Hormonal changes in pregnancy can cause hair loss in women. Often more noticeable after childbirth, this is a temporary loss that will regrow over time.
How to stop hair loss
Losing your hair is distressing and it can cause a lack of confidence that affects other parts of your life. If you are struggling to cope, ask your GP to refer you for counselling. It can also help to talk to other people going through the same thing; there are support groups across the country and online forums, such as Alopecia UK.
Whether you've noticed your hair is thinning or you're recovering from a temporary loss of hair, there are things you can do to promote healthy re-growth. We recommend:
a balanced diet, rich in zinc, iron, and folic acid
not over-styling your hair or using chemical treatments
massaging the scalp to stimulate blood flow
For more permanent forms of hair loss, there are surgical procedures and treatments that can help, including steroid injections, immunotherapy, or even a hair transplant. Not all of these are available on the NHS and they can be expensive, so you might consider a prescription medication first.
Finasteride tablets
Finasteride, also known as Propecia, is highly effective at treating male pattern baldness. It works by reducing dihydrotestosterone (DHT), that is thought to cause hereditary hair loss in men. In a five-year study, nearly half of all men using finasteride reported hair re-growth, and 42% showed no further hair loss².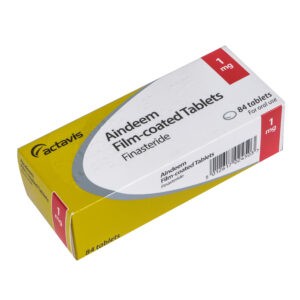 For those considering how to stop hair loss, finasteride is available to buy online privately from Post My Meds. It is the only oral medication licensed in the UK for treating the early stages of male pattern baldness. Finasteride is not suitable for women, but alternatives such as minoxidil can be used.
How to buy online
Buying your finasteride online is a safe and efficient way of managing your hair loss.
You will be required to complete a short online consultation form to ensure that your choice of treatment is clinically suitable, then your finasteride order will be dispatched by first class post. Rest assured, that we operate with complete discretion, and all our orders are packaged in unbranded envelopes to protect your privacy.
As with any high-street pharmacist, Post My Meds is authorised by the General Pharmaceutical Council (GPhC) – the UK's regulatory body for pharmacies.
All our pharmacists are trained to the industry's highest standards, and are available for help and guidance, online and in our Twickenham store. If you need advice on how to stop hair loss, our team is here for you.