Emergency contraception is used to prevent a pregnancy after unprotected sex or where other forms of contraception have failed, such as a missed pill or a torn condom. The most well-known is the "morning after pill", which as the name suggests can be taken in emergencies after sex (exactly how long after depends on the brand).
EllaOne is the most popular brand of morning after pill, and is considered to be an effective form of emergency contraception. According to NHS England, in 98 – 99% of cases, women who take ellaOne do not become pregnant¹.
However, there are things that can reduce the morning after pill's effectiveness, and it's important you know about these so you can take action. In this blog, we look at what can affect the success of ellaOne and how to order the morning after pill.
How to take ellaOne
EllaOne contains ulipristal acetate, which postpones the release of an egg (ovulation). It can be used at any time during your menstrual cycle, but you must take it within five days – or 120 hours – of having unprotected sex, for it to work.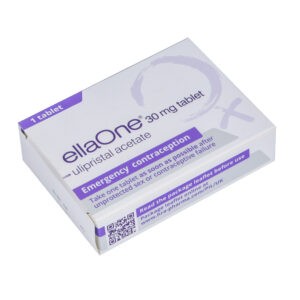 Unlike some brands, ellaOne still has a high success rate on day five, where others diminish in effectiveness over time. We would still recommend taking the morning after pill as soon as possible – the sooner you take it, the more effective it will be.
What to look out for
There are no serious or long-term side effects to taking ellaOne, but you may experience some mild symptoms, including:
headache
abdominal (stomach) pain
muscle pain, back pain, and tiredness
changes to your next period
nausea or vomiting
If you are sick within three hours of taking ellaOne, then you must speak to your GP or pharmacist. You'll need to re-take the morning after pill if suitable or use an alternative form of emergency contraception such as having an IUD fitted. An intrauterine device (IUD) is often referred to as a "coil" or "copper coil". It is fitted by a doctor or nurse into the womb, and releases copper to stop you getting pregnant.
When not to take it
Most women can take ellaOne, but before you order the morning after pill, it's important to make sure that it's clinically suitable for you. If you have severe asthma or you're allergic to any of the ingredients then you may not be able to use it. You should also check to make sure that it doesn't conflict with any other medication you are taking.
Some groups of medicines can prevent ellaOne from working effectively, this includes:
St John's Wort (herbal medicine)
medicines used to treat epilepsy, HIV or tuberculosis (TB)
some antibiotics (rifampicin and rifabutin)
a medicine used to treat fungal infections (griseofulvin)
certain proton pump inhibitors, such as omeprazole
If you have used anything on this list in the last four weeks, speak to your GP or pharmacist before you take ellaOne. They may recommend that you use another non-hormonal emergency contraception, such as the IUD.
Future contraception
Taking ellaOne can interfere with other types of contraception, so it's important to follow the guidelines for restarting your regular pill. We recommend using a form of barrier contraception, such as a condom or cervical cap for up to 14 days after you have taken ellaOne, or until your next period starts. Using a barrier contraception alongside your hormonal pill or patch, will give you the extra protection you need during these weeks.
The morning after pill won't protect you from getting pregnant if you have unprotected sex after you've taken it. If you don't already have a plan for long-term, regular contraception then you could consider using one of the following.
Condom
Diaphragm or cap
Combined pill
Progesterone-only pill
Contraception implant, injection, or patch
IUD (coil)
Vaginal ring
For help deciding which of these is the most suitable, contact your local sexual health clinic, GP, or pharmacy. The NHS guide to contraception is a great place to start.
Planning for emergencies
There are occasions when you might want to order the morning after pill in advance. If you are going on holiday or you're likely to be in a situation where you know you can't get hold of emergency contraception quickly, then it's worth planning in advance.
You can get emergency contraception for free from pharmacies, sexual health clinics, NHS walk-in centres, and some GP surgeries. If you are over 16 years old, you can also buy the morning after pill from pharmacies in-person or online.
Order the morning after pill
Buying medication from an online pharmacy is quick and easy. With Post My Meds, you can order the morning after pill in just a few steps.
1. Browse our range of emergency contraception
2. Select your treatment and complete a consultation form
3. Buy securely with fast delivery
Orders made before 4pm on a weekday and 11am on a Saturday, will be dispatched the same day. We use unbranded, discreet packaging to protect your privacy – the only thing on the envelope will be your address.
Post My Meds is a registered online pharmacy and all our products are approved by the UK's medicine regulator, the MHRA. You can rest assured that you're receiving the best advice and treatment.
What to do next
Used correctly, ellaOne is an effective emergency contraception. Make sure you are upfront and honest with your health practitioner, and always follow the guidance in the patient information leaflet that comes with your medication.
For it to work effectively, remember to:
take ellaOne within five days – or 120 hours – of unprotected sex
seek advice if you are sick within three hours of taking ellaOne
speak to your health practitioner about any other medication you are taking
When you order the morning after pill from Post My Meds, we will make sure that it is clinically suitable for you before we send out your treatment. Our trained pharmacists are on-hand for advice and guidance, when you need it.