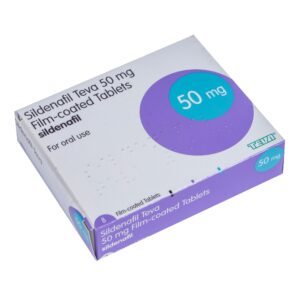 Sildenafil tablets are used to relax the muscles found in the walls of the blood vessels which can help blood flow to certain areas of the body. Sildenafil tablets are known to treat a number of different conditions, and most commonly is known as a form of Viagra which helps to treat erectile dysfunction, also known as impotence, in men. Here at Post My Meds, we offer sildenafil tablets as a cost-effective alternative to the common erectile dysfunction treatment Viagra.
Another form of the tablet is known as Revatio, and it is used to treat pulmonary arterial hypertension in both men and women. It is important not to mix the two forms of the tablet unless advised to do so by a doctor, and it is also important not to take it as a nitrate drug for chest pain or heart problems. There are a number of other drugs that can have some side effects if mixed with Sildenafil, so it is important to only take it if recommended to do so by the doctor.
Things To Consider Before Taking Sildenafil Tablets
There are a number of things to consider when it comes to sildenafil tablets, and it is important to be advised by your doctor before taking the tablet. There are a number of other considerations you should take, and you should ensure that you tell your doctor about any existing medical conditions before taking sildenafil tablets, including:
Heart disease
A recent history of heart attack, stroke or congestive heart failure
High or low blood pressure
Liver or kidney disease
A blood cell disorder
Stomach ulcers
Retinitis pigmentosa
A physical deformity of the penis
Heart rhythm problems
Coronary artery disease
Due to the location of the blood flow when taking sildenafil tablets, there have been instances where the decrease of blood flow can lead to sudden vision loss, but this has occurred in patients that had previous medical conditions, smoked and were over 50 years old. This is one of the reasons why it is important to consult your doctor before taking sildenafil tablets. You should also be over the age of 18 when taking sildenafil tablets, unless you have been instructed to take the tablets by the doctor.
Things To Avoid When Taking Sildenafil Tablets
Alcohol, as with many other forms of medication, can impose some side effects when consumed with sildenafil tablets, and other juices (such as grapefruit juice) can also interact with the ingredients in the tablets – therefore it is important to avoid such ingredients. It is also important to avoid taking any other medicines that are used for the purpose of erectile dysfunction, when taking sildenafil tablets.
Some of the drugs that generally interfere with sildenafil include:
Clarithromycin, erythromycin or telithromycin antibiotics
Antifungal medicines
HIV/AIDS treatments
High blood pressure and prostate disorder drugs
There are other over-the-counter medicines, herbal products and vitamins that may also interfere with the tablets, so ensure that you have received medical advice before taking the medication.
Common Side Effects Of Sildenafil Tablets
There are a number of common side effects to take into consideration before taking sildenafil tablets. If you experience any of the side effects listed below, make sure to contact your doctor for medical advice and stop taking the tablets.
Flushing
Dizziness
Headaches
Abnormal Vision
Stuffy Nose
Muscle Pain
Upset Stomach
If you are experiencing ringing in your ears, hearing loss, irregular heartbeat, swelling, shortness of breath, convulsions or a light-headed feeling, you should make sure to contact your doctor at once.
If you're experiencing the following side effect, make sure to get emergency help as soon as possible:
Symptoms of a heart attack, such as chest pain, nausea and sweating
Changes in vision, or vision loss
Prolonged erection, or one that is painful
This is not an exhaustive list of the side effects that you can experience when taking sildenafil tablets, so ensure that you seek medical advice before taking these tablets.
You can now purchase sildenafil tablets online from our registered pharmacy here at Post My Meds. Purchase sildenafil tablets here.